Q/SSE® Qualified/ Software Security Expert Certification
Everyone, no matter what software you write, software protocols, internal processes or you're responsible for secure programming. You all need to know secure coding techniques that minimize the adverse effects of SQL or other malicious hacker attacks on code.
This class is for everyone! If you want to learn how add Microsoft's SDL, sanitize inputs and test code this class is for you, if you write code this class is for you because everyone needs to know software security and how to BREAK & FIX software.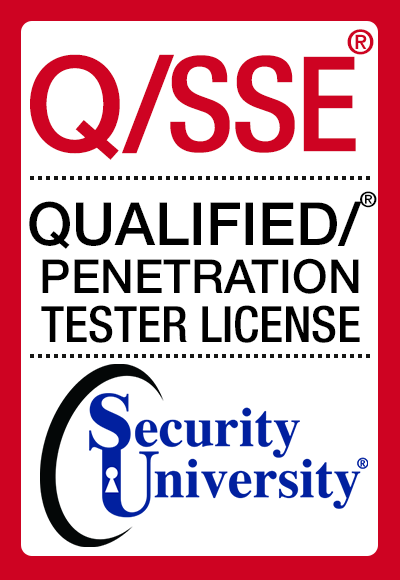 This 3-part, 5 day class delivers the best of all of the Qualified Software Security Expert classes and more. It includes items that are defensive in nature (e.g. checking error return codes before using, other data structures that should have been created, or protecting against using a pointer after it has been released), process-related and risk- related, hacking and XSS . Also included are items on how to prevent attacks with a step-by-step process how to FIX software with counter measures that protect your code.
Passing the Q/SSE classes and exams qualifies you to take the Q/SSE exam. The Q/SSE exam is made up questions you have seen from the Q/SSE classes that you take before the Q/SEE 100 multiple choice EXAM. Or you can Master the Q/SSE EXAM without taking any Q/SSE classes by passing the Q/SSE exam with a 80 or better and prove you have mastered the tactical software security skills labs from each Q/SEE class that proves your "qualified" for the job.
Lastly, its all about the web killer app. Web servers ARE the target of choice for hackers. 97% of all web applications are vulnerable, and better network security isn't the only answer! We explore a model for web application testing and discuss web application concerns, including accountability, availability, confidentiality and integrity. You will go well beyond the OWASP 10 to look at 19 specific web application attacks, including attacking the client, state, data and the server. When you leave these classes you are ready to defend your c0d3!
The best of Security University's Qualified SW Security Expert classes in a 5-day - $2,995
Q/SSE ® Qualified SW Security Expert 5-Day Bootcamp
Q/SSP ® Qualified SW Security Penetration Tester
SW Testing Onsite Bootcamp
How to Break & FIX Web Security
How to Break and FIX Software
Fundamentals of Secure Software Programming
Q/SSH ® Qualified SW Security Hacker
Q/SSBT ® Qualified SW Security Testing Best Practices
Introduction to Reverse Engineering
| | |
| --- | --- |
| Class Price: | $2,995 |
| Time: | 8am -6pm |
| Location: | check schedule |
| Prerequisites: | TCPIP |
| CPE Credits: | 40 |
| Instructor: | Highly qualified Software Security instructors, actively involved in the Application Security community |
Learning Level : Basic Programmer - Intermediate Programmer to Advanced
Who Should Attend
Software testers, software developers, development and test managers, security auditors and anyone involved in software production for resale or internal use will find it valuable. Information Security and IT managers; Information Assurance Programmers; Information Security Analysts and Consultants; Internal Auditors and Audit Consultants.
What Is CWE?
Targeted to developers and security practitioners, CWE is a formal list of software weaknesses, idiosyncrasies, faults, and flaws created to:
• Serve as a common language for describing the source code, software design, or software architecture causes of software security vulnerabilities.
• Serve as a standard measuring stick for software security tools targeting these issues.
• Provide a common baseline standard for identification, mitigation, and prevention of these weaknesses.
QA Specialists - Get our What is CWE? PDF now!
For additional information about CWE, click here.
*Class fees are subject to change